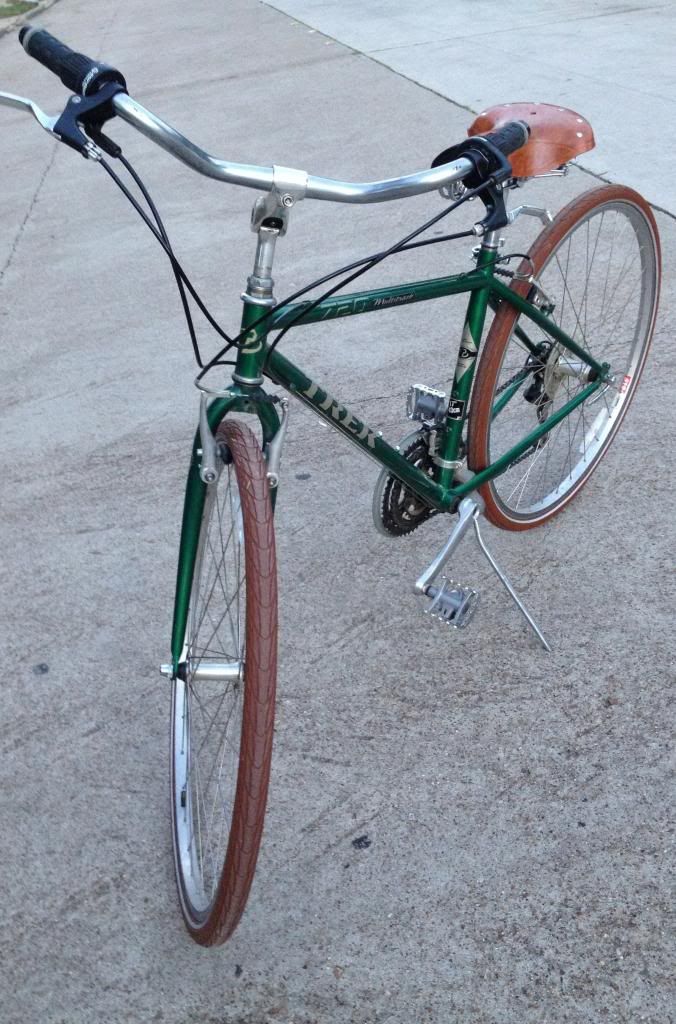 I mentioned in my last post that I recently bought a new (well, used but new to me) hybrid/townie type bike that I found on CraigsList a few months ago. Actually I just looked at the emails between me and the seller and it was exactly three months ago yesterday!
So after emailing back and forth a few times during the day, I met the guy I was buying it from at a gas station after work. When I saw him pull the Trek 720 he was selling off his truck I couldn't believe how new it looked. At first glance it looked like it was probably as good as the day it was first purchased.
I took her for a little spin around the gas station parking lot, gladly handed him my 60 bucks and raced home with it in the back seat of my little sedan. I wish I had taken pictures of it when I first brought it home because in three months of riding I've put a little dust on it.
Above is essentially what my recently acquired Trek 720 looked like when I first bought it except those rims and tires are different. Those rims are off my Marin road bike with a pair of Schwalbe CX tires.  The rims it came with are 700c Weinmann519 hoops with Quando hubs which according to Bikepedia.com were standard. It had (if I remember right) 32c tires but about two weeks (maybe four rides of about five miles each) of riding it on the trail behind my subdivision one of the tires blew out. I woke up one morning to find it looking like this.
Pretty weird huh. So it gave me a reason to put some recent, CraigsList-bought Schwalbe touring tires on the stock rims. It was pretty amazing the difference in the feel of the bike. It felt… I don't know, softer? I'm used to riding my road bike which has about 90 psi on skinny 23c wide tires. The Schwalbes are 35c Delta Crusiers that I've had at about 50psi. Takes a little getting used to because it almost feels like they're going flat but it is a pretty damn comfy ride… even with the crazy, plastic cracked saddle I've had on it for a while.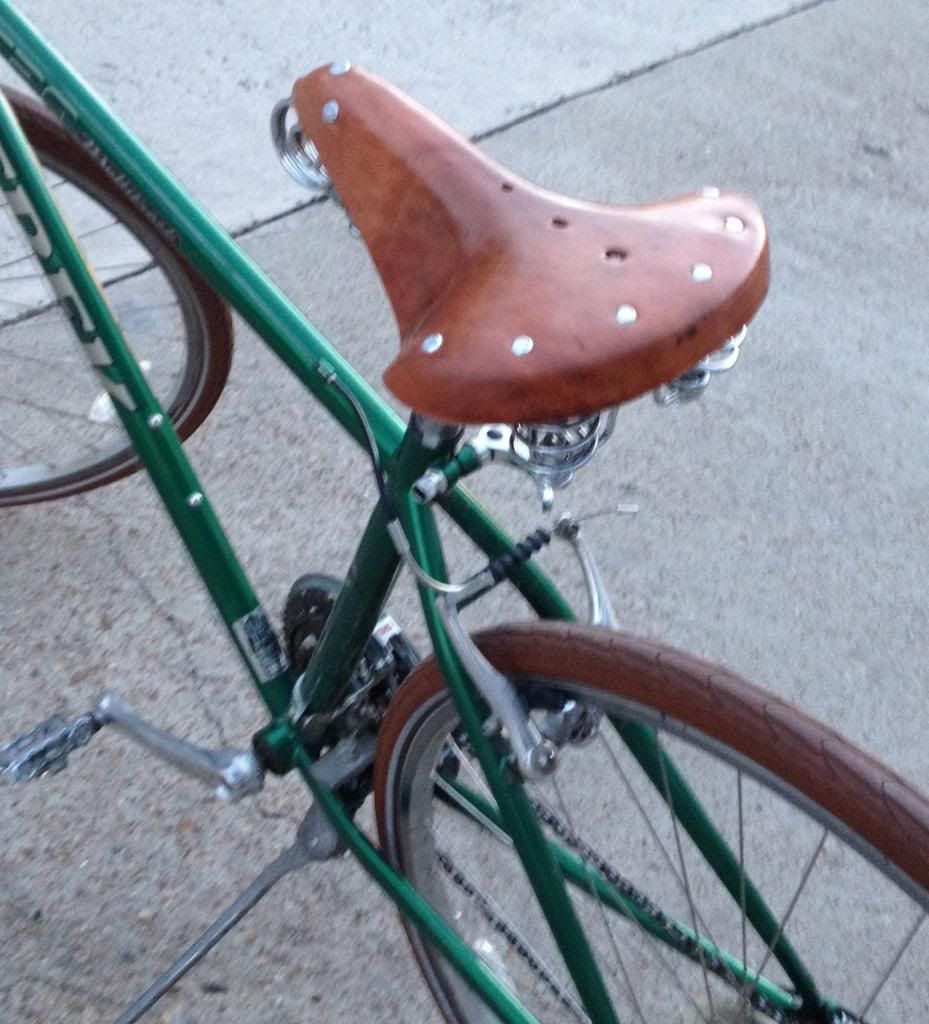 "Had" being the key word. I switched out the saddle after buying one of those cheap, hairpin style sprung saddles off ebay.  Honestly I'm kinda regretting it. I'll write a later post about this saddle but it doesn't feel like I was hoping.
So I've done a little research on this Trek and it looks like it's probably (almost definitely) a 1999. I found a website that has some pretty good info on older Treks and one thing it said was that if the chainstay measured 43.5, 44, 44.5, up to 47 cm then it was typically a touring frame. Well this one is 44.5cm so according that site it's a touring frame. Not really sure what that means but it feels pretty good to ride. Another thing that makes it nice to ride is the seat tube is only 17″.  I am NOT a really tall person. In fact, I'm quite short, coming in at a towering 5'3″ tall.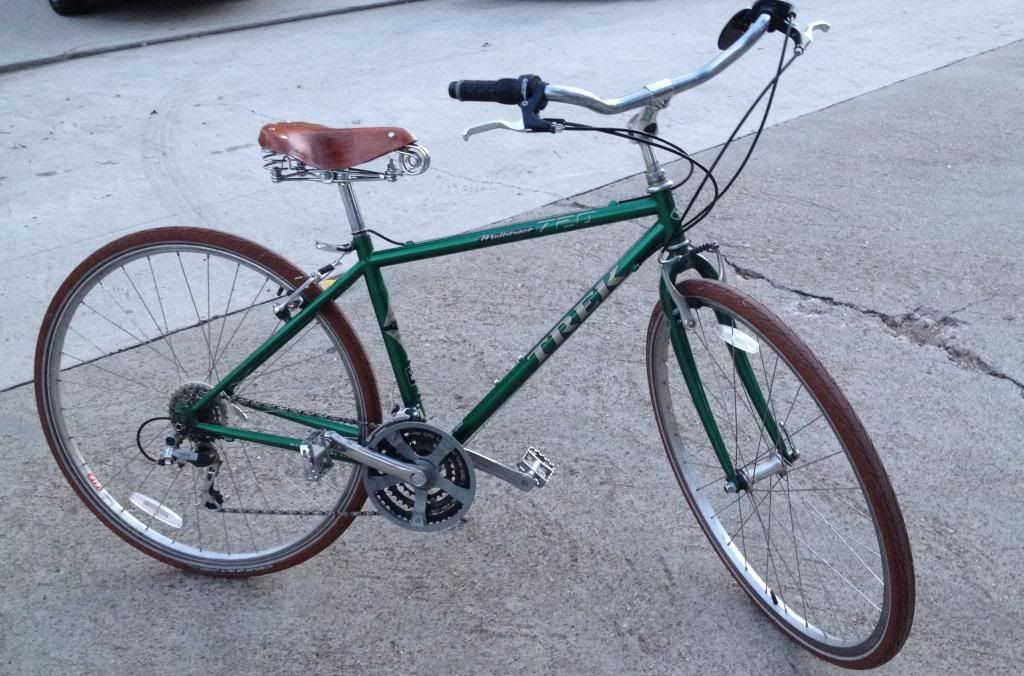 As a result this short frame fits me like a dream.
I absolutely love it.
It has me thinking that I may have rounded out my collection of bikes. At least for now.