I posted this on my build thread at RatRodBikes.com
I had to be out of the office this morning to file some paperwork for a client but luckily for me, I was able to arrange a CraigsList transaction to happen at the same time. The guy I was buying from worked near where I needed to be.
So what'd I get?
I got some used Schwalbe Delta Cruisers!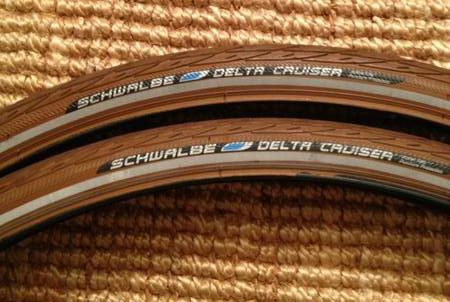 They do have some miles on them but the tread doesn't look too bad. The guy said he put about 500 miles on them but after talking with him for about 10 or 15 minutes I could tell this guy — he rides.  A lot.  I'm sure he easily put twice that on these things.
Still… 30 bucks for the pair. I thought I got a pretty sweet deal even with number of miles I think he put on them. They still have pretty good tread.
And I picked these up last night off of Amazon.


I've been wanting a set of these for a while and this build is the perfect bike to put them on. I've got a road bike with SPD pedals that I've had for years. I really like them a lot and I've been wishing I had them on my rusty, beat up old cruiser but that would look stupid.
With the Delta Cruisers and my thoughts to try and put a 3-speed hub on this bike I'm starting to get the idea of it being a town sport or racer type bike. So dual purpose SPD/deck pedals I think are perfect.
The pic above isn't of the actual pair but the same model. Brand new, they go for about 70 or 80 bucks so paying 40 bucks with free shipping… beer bottle clink for the win!
Unfortunately, my bill is beginning to add up for this build and I really wanted to keep it as inexpensive as possible.  I'm pretty close to having gathered all the parts but I really would like a new crankset (the one i have is pretty ugly) and now I need some rims to fit the new tires. All i have are 26 inchers laying around. I don't have any 700c's. Well I still have three and a half months so maybe something cheap will fall in my lap.