Below is what I posted to the RRB forum for my build thread.
~~~
Wow… a week since my last update. Time flies, right. The three day weekend took me away from the build as I left on a father/daughter trip with my 19 year old to the Kerrville Folk Fest.
Anyway, so how's everyone's build?!?
I think I've actually come up with a bit of a theme. Well, if nothing else a name for this bike. I'm calling it The Talisman.
I did a little research on the definition of a talisman and apparently there are some people who take creating a talisman very seriously — like, life-depends-on-it seriously. Me, not so much but I find the idea intriguing. For some there is a very particular process for creating a talisman: there is gathering and preparing the items, placing positive energy on them, putting a part of yourself… perhaps blood, sweat or tears. Sounds like what I've done so far in the build off. : )
And the purpose of the talisman is to bring good luck and or power. I'm hoping when done, this bike will do both.
Ok, so enough of that. Here's the progress I've made.
I painted my frame! … kind of.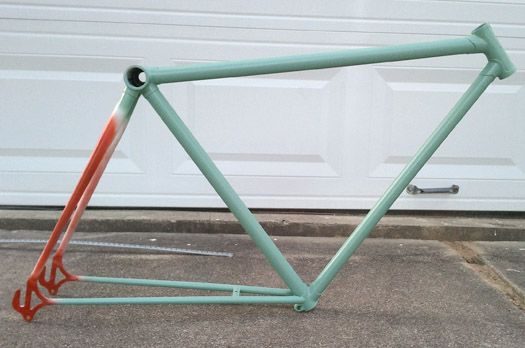 I put one coat of Krylon Jade so far except for the chain stays. where as you can see in the pics I painted it orange-ish/red.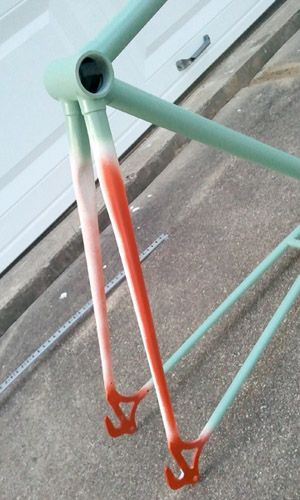 That's the same color that the lugs are going to be. That's not exactly the color I had in mind but oh well, I already put it on. So the reason I have the chainstays that color I hope to have a small quote in that orange against the jade. My plan is to print a quote about "luck" on a sticker or painter's tape or something, cut the letters out, stick them over the orange/red and then hit it with the jade color.
My theory is the words will be orange where I've placed my sticker and the rest the jade color. I hope it works.
I'm leaning toward one of these three quotes:
"Luck is the residue of design." — John Milton
"Do ya' feel lucky, punk?" ― Clint Eastwood
"God helps those who help themselves." — Aesop